Latest Happenings at Tr3ce
Tr3ce continues to provide their expertise to help organizations, departments, and entities retain and develop their latino employees through the understanding of cultural scripts. we focus on inclusive behaviors that get real results.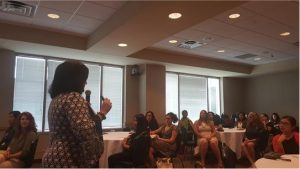 hace professional development series
We're proud to announce Patricia Conde-Brooks was selected as the key note speaker for the HACE Latina leadership series. Patricia was able to share the importance of understanding your individual and corporate cultural scripts and how to balance the two.